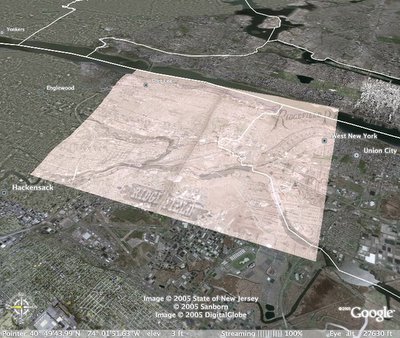 More fun with Google Earth...
The first one up there is a double overlay of a topographical map and hi-res aerial photo of a piece of real estate that my parents are looking at purchasing.
The next one is from a fun little project I did at school,
the Drewcam
. I overlaid the field of view (FOV) image onto the Google Earth landscape, and was able to profile the geographic features that you can see in the camera's view.
Finally, the last one is a map that my dad and I have been working from of Little Ferry Farm in the 1870s. This approximates the area where the supposed nitroglycerine blast was.
Neat stuff, eh? I've really gotta start working on making physical things again, though...
Although, I will say that my friend Terry's power supply project might afford that opportunity. Updates on that as events warrant.